Cities are laying the foundation for a robust and equitable energy efficiency workforce
As US cities push forward to meet their clean energy goals, they will need a strong, capable energy efficiency workforce to make critical energy-saving upgrades and investments. Our new report, Through the Local Government Lens: Developing the Energy Efficiency Workforce, shows how cities can take an active role in growing the workforce and extend its benefits to underserved communities.
The Energy Efficiency Workforce
Local governments across the United States are increasingly prioritizing energy efficiency, and there are a lot of efficiency jobs out there – 2.25 million. These jobs span diverse industries, from construction to professional and business services. And they are projected to keep multiplying, with a 9% increase predicted for 2018.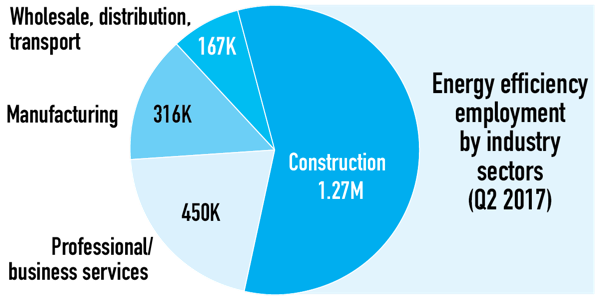 With the right policies and practices, local governments can develop and grow this robust workforce. From our research and more than 25 interviews, we identified a few key strategies cities can take.