LEED Certified Attractions to Visit in Virginia This Summer
Virginia is home to a huge selection of attractions and locations to visit and spend your leisure time, many of which offer the added benefit of being energy-efficient! As the summer winds down, you're probably considering a last-minute vacation for the Labor Day weekend. Read up on a few special locations that have been awarded LEED certification for their efforts in energy-efficiency.
Brock Environmental Center
Located in the City of Virginia Beach, the Chesapeake Bay Foundation(CBF)'s Brock Environmental Center has been described as a must-see destination for anyone who is interested in seeing how infrastructure and nature can thrive side by side. The Brock Environmental Center serves as the CBF's regional base of operations to offer its award-winning environmental education programs to 2,500 students and teachers each year and provides space for other local conservation partners, community meetings and special events.
The project has seen some truly remarkable feats. "In the past year, the Center has produced about 83 percent more energy than it has used. The building also uses 90 percent less water than a typical office building of its size. And as a result . . . uses 80 percent less energy than a typical building that size."
The building has achieved LEED Platinum certification from the U.S. Green Building Council and Living Building Challenge certification from the International Living Future Institute. Platinum certification designates the Center has scored 80+ points across categories that include: Location & Transportation, Sustainable Sites, Water Efficiency, Energy & Atmosphere, Materials & Resources, Indoor Environmental Quality, Innovation and more. The Living Building Challenge certification requires a building to produce more energy than it uses over the course of 12 consecutive months and maintains strict criteria for water use, location, health, materials, equity, and beauty.
3663 Marlin Bay Drive, Virginia Beach, VA
https://www.cbf.org/about-cbf/locations/virginia/facilities/brock-environmental-center/
Clark Hall – University of Virginia
While visiting the University of Virginia (UVA) campus in Charlottesville, be sure to ask your tour guide for a look inside Clark Hall, a historic that went through a series of retrofits and renovations as part of the university's pledge to energy-efficiency. Once home to the school of law, the current Department of Environmental Sciences "serves as an unsurprising candidate to lead UVA's energy conservation efforts by example."
Within Clark Hall, UVA began its Better Buildings Challenge by converting all of the building's 5,000 interior and exterior lighting fixtures from fluorescent to LED, installing low-flow toilets and faucets, re-calibrating air handling units and upgrading HVAC controls. The resulting impact saved UVA about $770,000 in energy and water savings, and 3,000 tons of carbon emissions per year! Quite fitting for the building that houses the Department of Environmental Sciences.
291 McCormick Rd, Charlottesville, VA 22903
Virginia Beach Convention and Exhibition Center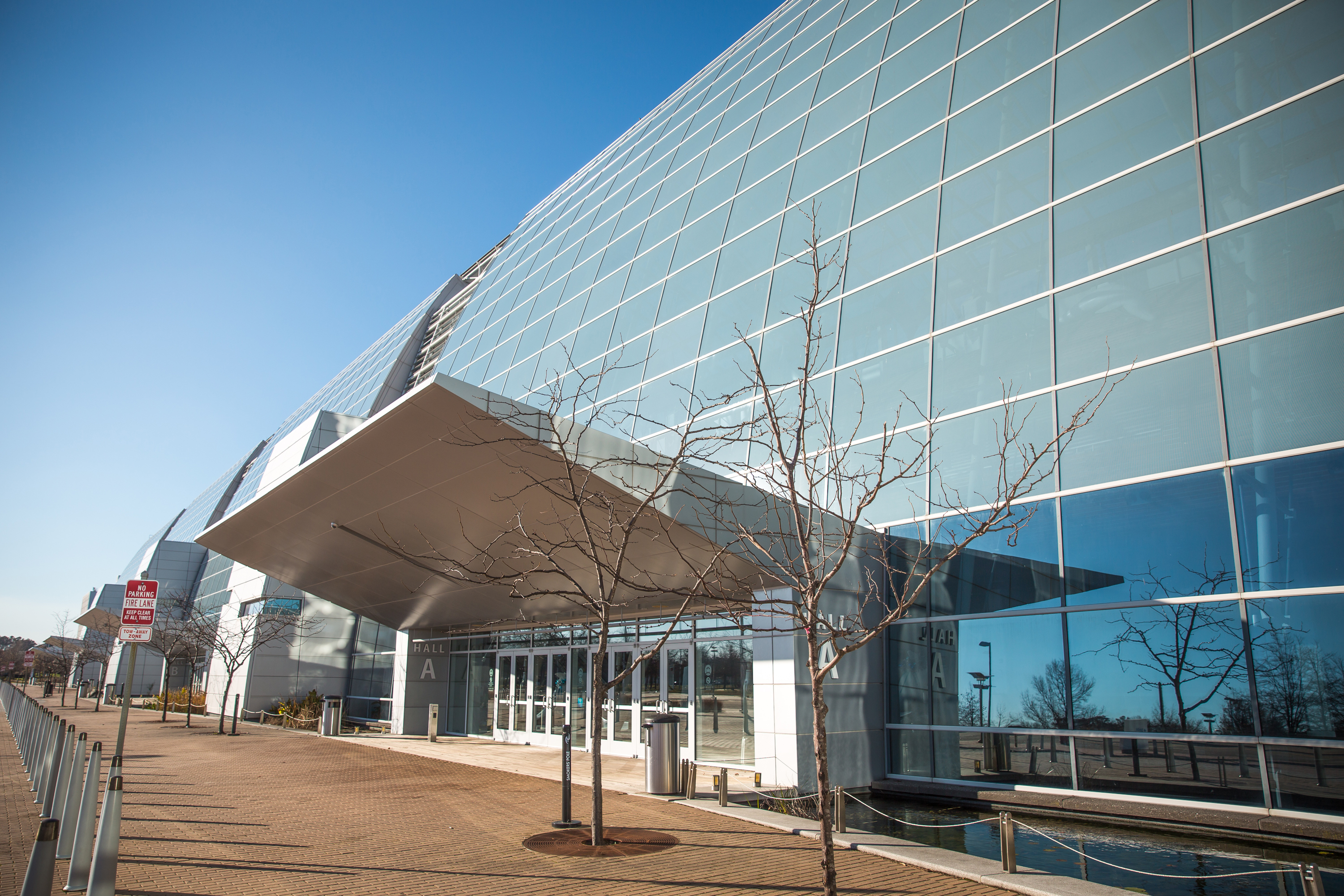 Located within walking distance of the beach, the Virginia Beach Convention Center (VBCC) is publicly owned and maintained by the City of Virginia Beach.  Having earned a LEED Gold in the Existing Buildings category, its when renovations helped better serve its capacity of 18,000 while more effectively manage its carbon footprint. 85 percent of the work done to achieve LEED certification was completed by the City of Virginia Beach staff, a testament to the manpower Virginia Beach has to offer.
"The upgraded building automation system provides real-time thermographic color images to illustrate occupant comfort and provides live energy use data. In addition, an on-site vegetable garden, improved water efficiency, and the annual diversion of more than 140 tons of waste from the landfill helped VBCC earn necessary certification points."
Address: 1000 19th St, Virginia Beach, VA 23451
https://www.visitvirginiabeach.com/convention-center/
Cooper Vineyards
Trips to the vineyard are an excellent way to enjoy the surrounding community one glass at a time, and knowing it was managed in an energy-efficient manner should put your mind even more at ease. You'd achieve exactly that when you delight in a glass of Noche at Cooper Vineyards  LEED Platinum certification in 2012 for their environmentally-friendly tasting room. As the Green Badger described it, "the architectural design of the tasting room, with two complete walls of glass that extend up for two stories, makes the visitor experience that of an "indoor/outdoor" space regardless of the weather."
Cooper Vineyards boasts a nearly 5,000-square-foot building that deserves recognition for its strides in energy efficiency as well. The building holds the vineyard's offices, kitchen, and tasting room mentioned earlier, and includes a 3,000-gallon tank rainwater harvesting system, a Structurally Insulated Panel System (SIPS), solar power panels, and several 30-foot indoor solar-light harnessing tubes.
13372 Shannon Hill Rd, Louisa, VA 23093
http://www.coopervineyards.com/
Henrico County Public Libraries
Henrico County Public libraries are essential information hubs for their communities. They offer access to resources that can change lives, at no additional fee. Maintaining a library's many books, computers, videos, conference spaces, learning programs, and more can be energy-intensive. Four of Henrico's libraries have created a benchmark on implementing energy-efficient practices into their building implementation; the Gayton Branch Library, Glen Allen Branch Library, Libbie Mill Area Library, and Varina Area Library have all reached LEED certification for multiple designs. 
After a renovation project that included building automation HVAC systems, high-efficiency sink fixtures, alternative transportation parking, and environmentally conscious material selection, each library was able to reduce water consumption by an average of 42% and energy consumption by 32% with its renovations. Additionally, 90% of construction waste was diverted from landfills! Glen Allen Branch Library was the first of the four to finish renovations in 2010. with Varina finishing up in 2016 and was recognized in 2017 by the American Institute of Architects and the American Library Association for excellence in library design. The new library offers Varina area residents many new and improved services in a beautiful setting while reinforcing Henrico County's commitment to environmental stewardship.
Gayton
10600 Gayton Rd, Henrico, VA 23238
https://henricolibrary.org/gayton
Glen Allen
10501 Staples Mill Road, Glen Allen, VA 23060
https://henricolibrary.org/glen-allen
Libbie Mill
2100 Libbie Lake East St,
Henrico, VA 23230
https://henricolibrary.org/libbie-mill
Varina
1875 New Market Road
Henrico, VA 23231
https://henricolibrary.org/varina
Nationals Park
Baseball fans and Washington D.C. natives alike will be familiar with the home to the MLB team, the Washington Nationals. Nationals Park has the distinction of being the first Major League Baseball stadium with LEED certification! 
Built on a brownfield, a lot of care was put into incorporating the stadium into D.C. while minimizing its energy use and resource waste production. Efficient field lighting, external shading, additional shading, low-flow faucets and dual-flush toilets, a 6,300-square-foot green roof over the left-field concession and restroom areas, and stormwater filtration systems help improve the efficiency and quality of the experience offered to its 1,000,000+ sqft. Campus.
1500 S Capitol St SE, Washington, DC 20003
https://www.mlb.com/nationals/ballpark
While you enjoy your next vacation or weekend adventure in Virginia, be sure to learn about how it provides the quality service you love, with the attention to energy and resources that benefit everyone! Know about a location/attraction that has taken strides to remain energy efficient? Email us at info@vaeec.org